Protoshop on uusia prototyyppejä esittelevä näyttely, joka kootaan Habitare-messuille jo kymmenettä kertaa. Protoshopin tämänvuotinen näyttely koostuu 11 uudesta prototyypistä, joita yhdistää oivaltava tapa löytää uusia ratkaisuja ajankohtaisiin haasteisiin, sekä kyky toteuttaa idea ajattomaksi tuotteeksi.

Protoshop, which is in its 10th year, is an exhibition that presents prototypes at the Helsinki Design Fair Habitare. This year's exhibition presents 11 new prototypes that combine the ability to find insightful solutions to current challenges and the skill to boil them down into timeless objects.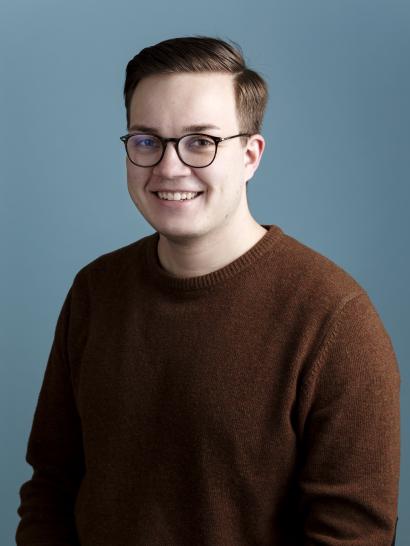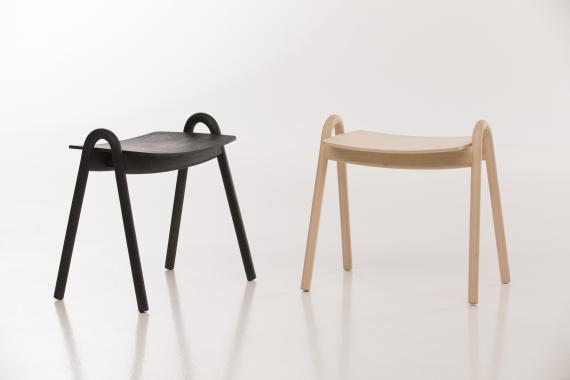 Kanto on selkeäilmeinen pinottava jakkara. Idea jakkaraan syntyi jalkarakenteesta, joka lukkiutuu istuttaessa. Kaartuvat jalat toimivat kahvoina jakkaraa liikuteltaessa, mistä myös jakkaran nimi Kanto tulee.
Ville tavoittelee ajatonta ja puhdasta muotoa, keskittyen pohjoismaiseen käsityöhön ja tarkkaan mietittyihin yksityiskohtiin. Häntä inspiroi materiaalien haastaminen uusiin muotoihin ja ratkaisujen löytäminen. Ville tutkii jatkuvasti uusia tapoja saada ideat paperilta toteutukseen.
Kanto is a stackable stool with a clear expression. The idea for the form came from the self-locking structure. The curving legs work as handles when moving the stool hence the name Kanto or carry.
Focusing on scandinavian craftmanship with well thought details, Ville aims to make timeless and clean design. Challenging materials into new forms inspires him, and he enjoys solving and exploring new methods and ways to get his ideas from paper to realization.
studiovilleauvinen.com
ville[at]studiovilleauvinen.com
@studiovilleauvinen
+358 (0) 45 3699 759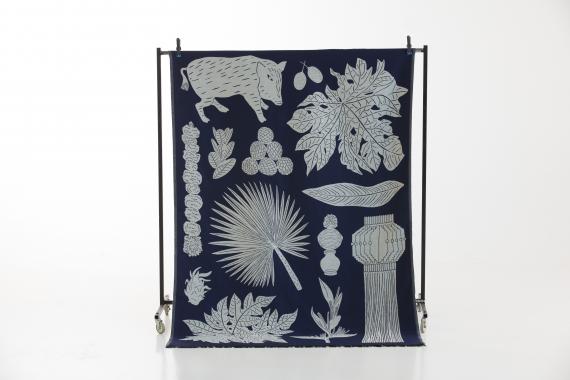 Matka on kaksipuolinen villahuopa, joka on saanut inspiraationsa suunnittelijan viimeisimmästä matkasta Intiaan sekä maan kauniista luonnosta ja upeasta kulttuurista. Suunnittelija toivoo että huopa toisi iloa ihmisten koteihin, muistuttaisi heitä aiemmista matkoistaan ja rohkaisisi heitä suunnittemaan seuraavaa.
Tong Ren opiskelee tekstiili- ja vaatetussuunnittelun MA-ohjelmassa Aalto-yliopiston Taiteen ja suunnittelun korkeakoulussa. Ennen nykyisiä opintojaan hän opiskeli ja työskenteli pitkään teollisen muotoilun parissa.
Matka is a double-sided woollen blanket. The inspiration for the Matka blanket came from the designer's latest trip to India - it's beautiful nature and amazing culture. The designer hopes the blanket could bring joy to different people's homes, remind them of trips they have made in the past and encourage them to plan the next one!
Tong Ren studies in the Fashion, Clothing and Textile Design MA program at the Aalto University School of Arts, Design and Architecture. Before his current studies, Tong studied and worked for many years in the industrial design field.
tong.ren.mail[at]gmail.com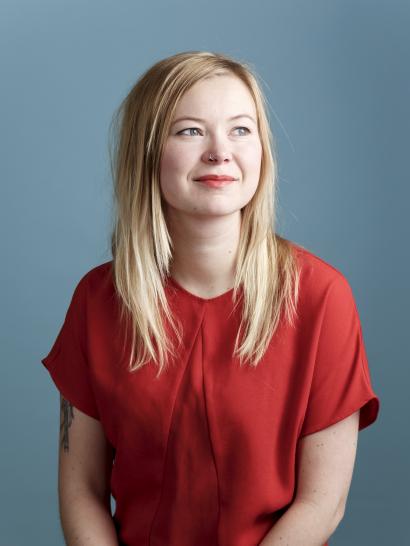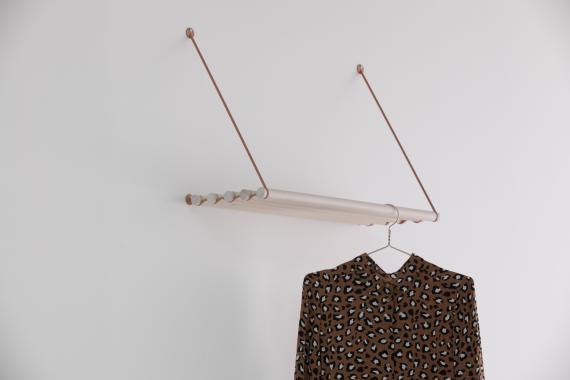 Wiggle on seinäkiinnitteinen vaatesäilytin. Siihen kuuluu kaksi teräslangasta taivutettua kannatinta, joiden varaan asetetaan koivusta sorvatut tangot. Puuosat jäykistävät rakenteen ja toimivat samalla tankoina henkareille sekä hattuhyllynä. Suunnittelun tavoitteena oli suunnitella sekä ilmeeltään että fyysisiltä komponenteiltaan minimalistinen esine, joka sopisi moneen tilaan.
Sirena Nieminen on Lahden Muotoiluinstituutista vuonna 2016 valmistunut kalustemuotoilija. Sirenan suunnittelua ohjaa yksinkertaisuus, esteettisyys, ekologisuus sekä monikäyttöisyys. Usein hän pyrkii jollain hauskalla oivalluksella yhdistämään eri toimintoja yhteen tuotteeseen, jotta materiaalin tai tavaran määrää voitaisiin vähentää.
Wiggle is a wall mounted coat rack. It consists of wooden poles which are placed on two bent steel brackets. The wooden parts both reinforce the structure and can be used to hang clothes and store accessories. The aim was to design an object minimal in both appearance and physical parts that would fit in different spaces.
Sirena Nieminen graduated as a Furniture Designer from the Lahti Institute of Design in 2016. She aims to design simple, beautiful and ecological products, often with multifunctional features to reduce the amount of materials and products we have.
sirenanieminen.fi
@sirenanieminen
sirenanieminen[at]gmail.com
+358 44 567 8604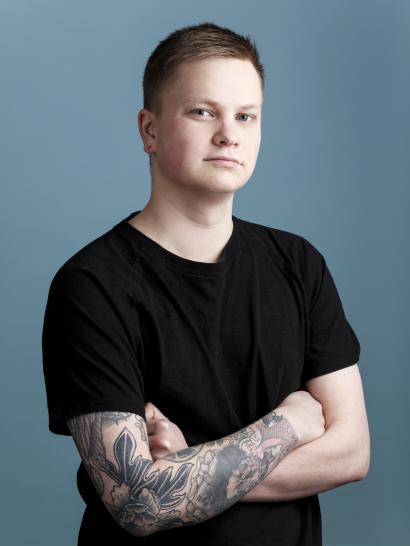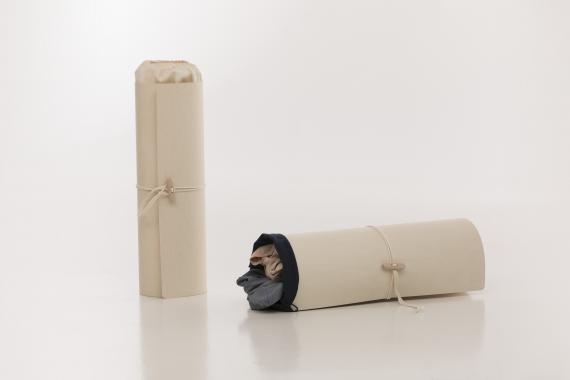 Shibumi on uudenlainen lähestymistapa pyykin säilyttämiseen. Rullamainen säilytin mukautuu käyttäjänsä tarpeisiin, oli tila iso tai pieni, ahdas tai avara. Ratkaisu painottaa toimivuutta sekä yksinkertaista sekä selkeää muotokieltä.
Robert on toisen vuoden muotoilun opiskelija Metropoliassa. Pelkistetyn kaunis, laadukas ja ajaton estetiikka ovat Robertille tärkeitä elementtejä muotoilussa. Hän ammentaa töihinsä paljon tunnetiloja luonnosta ja arjen kaaoksesta.
Shibumi is a new way of looking at storing your laundry. The roll-like element, with its simple and functional aesthetic, adapts both to the user's needs and different sized spaces.
Robert is a second year design student at Metropolia University. Simplicity, quality and timeless aesthethics play a big part in how he works & approaches design. He absorbs emotions from nature and the chaos of everyday life and translates them into his work.
robert.ylihoikka[at]gmail.com
@robert_henrik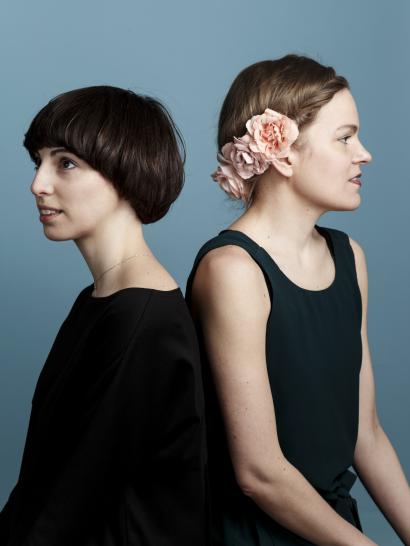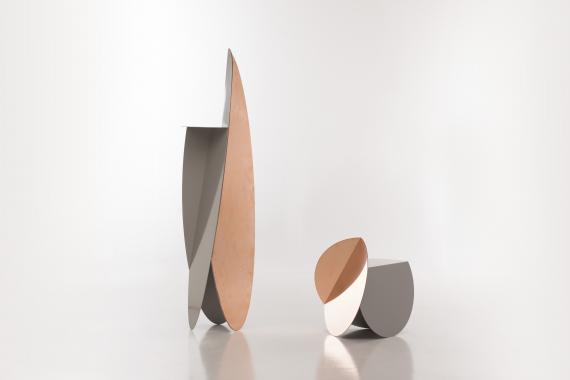 Suspect I ja Suspect II ovat veistoksellisia käyttöesineitä, joiden muotokieli on saanut vaikutteita brasilialaisesta konstruktivismista. Ohuesta metallilevystä rakentuvat moniulotteiset esineet eivät avaudu yhdestä suunnasta katsottuna, vaan niitä on syytä tarkastella eri puolilta. Korkeamman kalusteen venytetyt mittasuhteet synnyttävät jännitteisen vuoropuhelun matalamman esineen tiukan muotokielen kanssa.
Mervalia on Helsingissä toimiva suomalais-brasilialainen suunnittelija-kaksikko. Mervi Antila on suomalainen muotoilija ja Nathalia Mussi on brasilialainen arkkitehti ja muotoilija. Kaksikko työskentelee laaja-alaisesti muotoilun parissa.
Suspect I and Suspect II are sculptural yet functional pieces that don't deny their brazilian constructivist roots. Made out of thin metal sheets, the tridimensional composition of flat round shapes is difficult to be captured from one point of view. The distorted proportions of the tall piece disturb the strict form of the short one, establishing an odd tension between the two characters.
Mervalia is a Finnish-Brazilian design duo based in Helsinki – Mervi Antila is a Finnish product designer and Nathalia Mussi is a Brazilian architect and designer. Their work ranges from furniture to accessories and surface design.
http://www.merviantila.com
http://nathaliamussi.com
Mervi +358 50 567 7930
Nathalia +358 44 241 5115
info[at]mervalia.com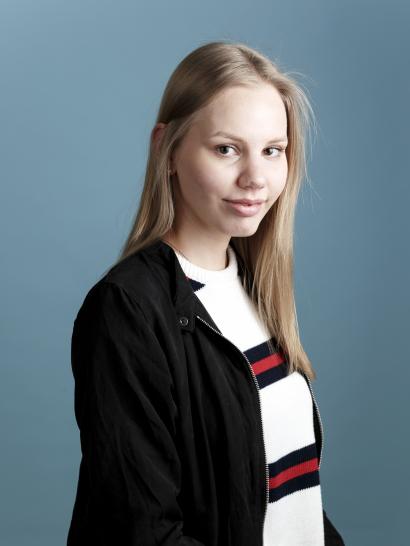 Tuijotamme näyttöjä lähes kaiket päivät. Sininen valo älypuhelimista, tableteista ja tietokoneista sotkee luonnollisen vuorokausirytmimme, minkä seurauksena monet meistä kärsivät unettomuudesta ja muista terveysongelmista. Valo voi vaikuttaa monin tavoin mielialaan. Kirkas sininen valo herättää meidät ja pehmeämpi keltainen valo auttaa meitä rentoutumaan. MOOD on kello, joka muuttaa sävyään kellonajasta riippuen.
Laura opiskelee teollista muotoilua Metropolia Ammattikorkeakoulussa. Suunnitteluprosessissa häntä kiinnostaa eniten mallintaminen ja uusien ratkaisujen etsiminen.
We stare at screens almost all day. The blue light glare from our smartphones, tablets and computers confuses our natural circadian rhythms. As a result, many of us suffer from insomnia and other health problems. Light effects our moods in many ways. Bright blue light wakes us up and softer yellow light helps us to relax. MOOD is a clock that changes its tone according to the time of day.
Laura studies industrial design at Metropolia University of Applied Sciences. Her favourite part of the design process is 3D modelling and searching for new solutions.
laura.laamanen[at]kolumbus.fi
+358 50 404 3690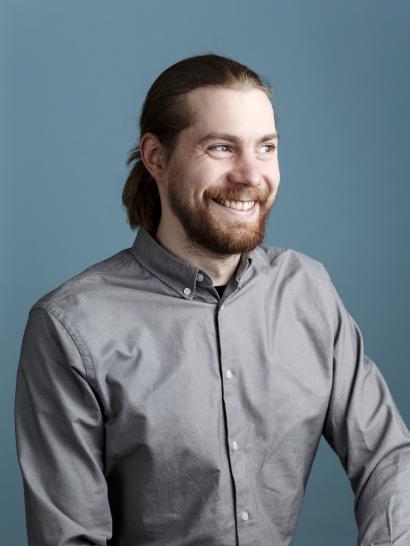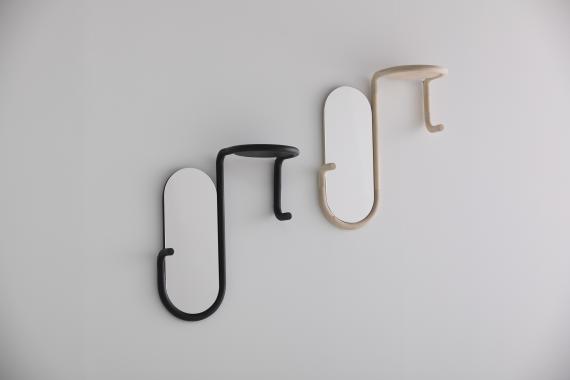 Naru on pieni mutta monipuolinen seinälle kiinnitettävä kaluste. Mutkittelevan puisen pyörötangon päädyt toimivat ripustimina ja väliin jäävät kaaret rajaavat sisälleen peilin ja tason. Naru on yksinkertainen pieni kaluste, johon voi esimerkiksi ripustaa takin ja laskea avaimet samalla kuin vilkaisee peiliin.
Kristoffer Heikkinen suorittaa tällä hetkellä maisteriopintojaan Aalto-yliopistossa Product and Spatial Design -linjalla. Suunnittelemissaan tuotteissa hän pyrkii siihen, että tuote vastaa tarpeeseen ja ratkaisee ongelmia yksinkertaisella ja toimivalla tavalla.
Naru is a small but multifaceted wall mounted object. The ends of the curving wooden pole work as a coat rack and its arcs frame a mirror and a small shelf. Naru is a simple piece of furniture which you can use to hang your coat, place your keys and take a glance in the mirror.
Kristoffer Heikkinen is studying for his Master's degree at Aalto University's programme for Product and Spatial Design. In his designs he aims to answer needs and solve problems in a simple and functional way.
kristofferheikkinen[at]outlook.com  
@kristofferheikkinen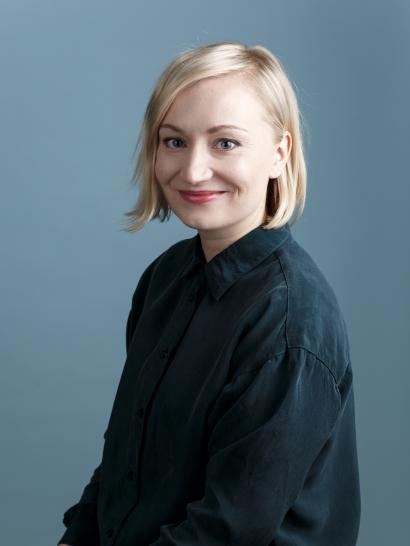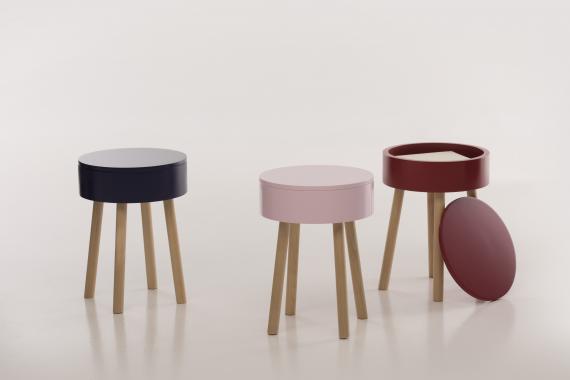 Piilo on jakkara, joka kätkee sisäänsä säilytystilan, luoden siitä kodin erilaisiin tarpeisiin muuntuvan tuotteen. Se toimii esimerkiksi keittiön varajakkarana, eteisen aputuolina tai yöpöytänä, samalla säilöen ja piilottaen sisäänsä pienet tavarat. Muotoilultaan yksinkertainen tuote saa uudenlaisen vivahteen, kun koivun vaaleaan sävyyn yhdistetään rohkeasti väriä.
Hanna Lantto on suunnittelija, jonka töiden lähtökohtana on monikäyttöisyys ja muuntuvuus. Hän inspiroituu väreistä ja haluaa tehdä tuotteita, jotka yllättävät ominaisuuksillaan.
Piilo is a stool which hides a storage space inside its seat, making it suitable for different spaces and needs. It can be a spare stool in the kitchen, an entrance hall seat or a bedside table, simultaneously storing and hiding small objects inside it. Light birch combined with bold colours and a simple form give the stool its identity.
Hanna Lantto is a designer whose work is based on versatility and adaptability. She is inspired by colour and wants to design objects which offer the user an experience of surprise.
www.hannalantto.fi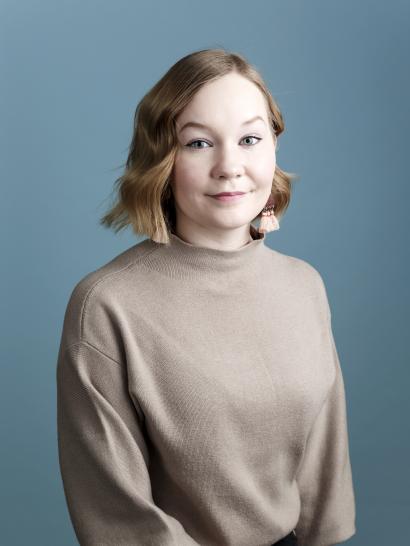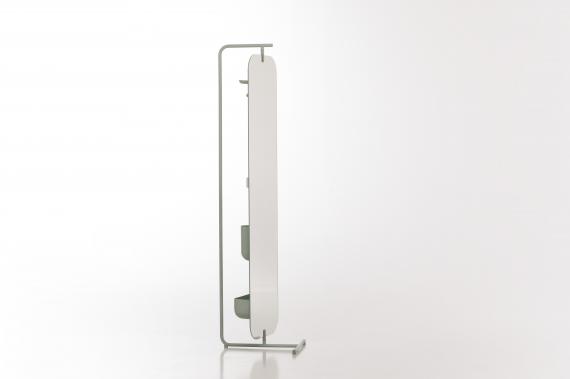 Twist on peili, joka kätkee taakseen pieniä säilytysmahdollisuuksia. Edestä katsottuna yksinkertaista peiliä kääntämällä löytää erilaisia lokeroita ja ripustimia. Twist sopii pieniin koteihin, joissa säilytystilasta on puutetta ja toisaalta mihin tahansa kotiin pienten esineiden säilyttämiseen.
Hanna Kutvonen on valmistunut muotoilijaksi Lahden Muotoiluinstituutista keväällä 2018. Hänen tuotteensa ovat usein hyvin persoonallisia tavoitteenaan tuoda hymy katsojan huulille, kuitenkin toimivuus ja laatu mielessä pitäen.
Twist is a mirror that hides small storage possibilities behind it. By turning the simple mirror, a variety of small compartments and hooks can be found on the other side. It is perfect for smaller homes with little storage space or then again as a storage element for small objects in any home.
Hanna Kutvonen graduated as a designer from The Lahti Institute of Design in spring 2018. Her products often are very characteristic with an aim to bring a smile to the viewer's face, keeping functionality and quality in mind.
hanna.kutvonen[at]outlook.com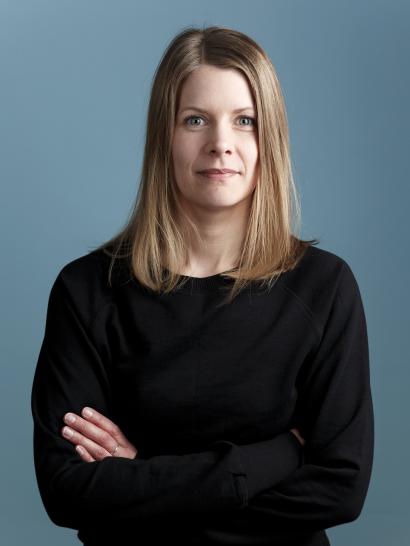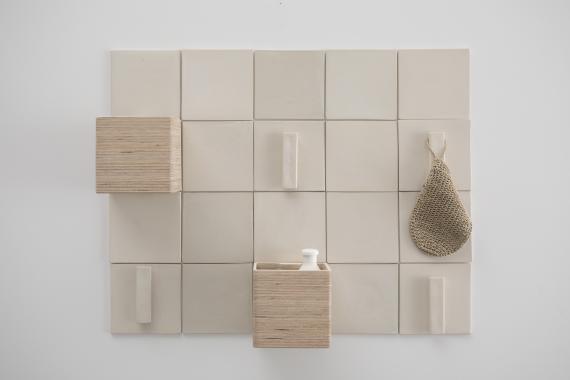 Interface on keraaminen laatta, joka toimii kannakkeena säilyttimen, pyyheliinan tai peilin ripustamisessa. Suunnittelun lähtökohtana oli luoda pelkistetty ja minimalistinen säilytysratkaisu pieniin kylpyhuoneisiin. Esineet sulautuvat ympäristöönsä funktionaalisen laatan välityksellä, joka toimii käyttöliittymänä eri toimintojen välillä. Laatan prototyyppi on toteutettu yhteistyössä Anu Nurminoron ja Osuuskunta Tuulenpesän kanssa.
Anna viimeistelee muotoilun opintojaan Turun ammattikorkeakoulussa. Hänen suunnittelunsa pohjautuu usein syvällisen ongelmanratkaisun kautta löytyviin pieniin ja yksinkertaisiin oivalluksiin sekä pelkistettyyn ja ajattomaan muotokieleen.
Interface is a ceramic tile that can be used as a hanger for a container, towel or mirror. The aim of the project was to create a simple storage solution for small bathrooms. A range of objects are integrated into their surroundings through this functional tile which acts as an interface between different activities.  The prototypes were produced in cooperation with Anu Nurminoro and Osuuskunta Tuulenpesä.
Anna is finishing her design studies at the Turku University of Applied Sciences. Her work is based on a thorough process of problem solving, resulting in small insightful ideas and simple form.
annamai.korte[at]gmail.com
@korte.anna
+358 40 154 2233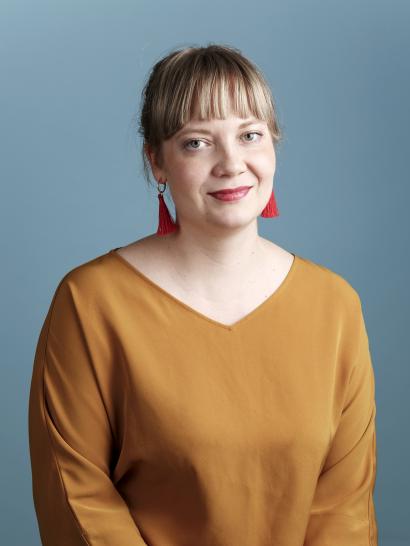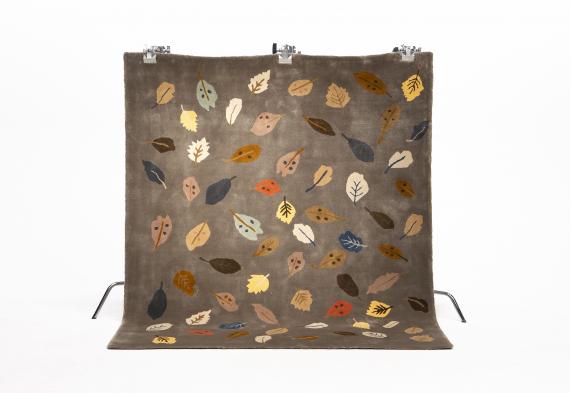 Ruska on käsin tuftattu villamatto, joka ylistää syksyä. Lehti-aiheinen kuvio sai alkunsa vilpittömästä ihailusta luontoa kohtaan ja siitä miten luonto vuosi vuodelta muuntautuu syksyksi väripalettiaan kartuttaen.
Anna Kantanen on monipuolinen esinemuotoilija joka ei kyllästy keksimään itseään uudelleen. Anna työskentelee useiden materiaalien parissa, pääasiallisena erikoisalueenaan keramiikka. Hän lähestyy arjen käsitettä haasteena ja pyrkii tuomaan jokapäiväiseen esinemaailmaamme jotain uutta funktion ja kauneuden kautta. Anna löytää inspiraationsa yhtä lailla Suomen karusta luonnosta kuin matkoilta ja jokapäiväisestä ympäristöstään löytämistä pinnoista ja struktuureista.
Ruska (foliage) is a hand-tufted wool carpet that celebrates autumn. The leaf pattern grew from an honest admiration towards nature and it's capability of transforming itself again and again into autumn and intensifying its vivid colour palette.
Anna Kantanen is a versatile object designer who never gets tired of re-inventing herself. Anna works with a broad spectrum of materials, with ceramics as her expertise. With an interest in breaking our perception on everyday objects, Anna approaches "everyday" as a challenge wanting to answer to a demand for both the functional and the aesthetic by transforming the often mundane and dull into something beautiful. She finds inspiration from the rough Finnish nature, as well as surfaces and structures picked up on travels or from everyday environments.
www.annakantanen.com
a.kantanen[at]gmail.com
@annakantanen_design
+358 40 833 7864