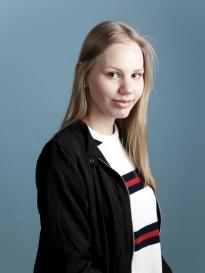 Laura Laamanen

-

MOOD (Lampclock)

Tuijotamme näyttöjä lähes kaiket päivät. Sininen valo älypuhelimista, tableteista ja tietokoneista sotkee luonnollisen vuorokausirytmimme, minkä seurauksena monet meistä kärsivät unettomuudesta ja muista terveysongelmista. Valo voi vaikuttaa monin tavoin mielialaan. Kirkas sininen valo herättää meidät ja pehmeämpi keltainen valo auttaa meitä rentoutumaan. MOOD on kello, joka muuttaa sävyään kellonajasta riippuen.

Laura opiskelee teollista muotoilua Metropolia Ammattikorkeakoulussa. Suunnitteluprosessissa häntä kiinnostaa eniten mallintaminen ja uusien ratkaisujen etsiminen.
We stare at screens almost all day. The blue light glare from our smartphones, tablets and computers confuses our natural circadian rhythms. As a result, many of us suffer from insomnia and other health problems. Light effects our moods in many ways. Bright blue light wakes us up and softer yellow light helps us to relax. MOOD is a clock that changes its tone according to the time of day.
Laura studies industrial design at Metropolia University of Applied Sciences. Her favourite part of the design process is 3D modelling and searching for new solutions.
laura.laamanen[at]kolumbus.fi
+358 50 404 3690