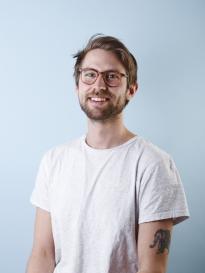 Riku Toivonen

-

ISO-TANELI & PIKKU-TANELI

Iso-Taneli-vaaterekki ja Pikku-Taneli-koriteline on suunniteltu urbaaniin asumisympäristöön ja pieniin asuntoihin. Käyttämättöminä rekit voi säilyttää kokoon taitettuina tilan säästämiseksi. Korit on suunniteltu pienten esineiden säilytykseen. Pikku-Tanelia voi vaihtoehtoisesti käyttää myös kodin lajittelu- ja kierrätysjärjestelmänä kuiville jätteille kuten paperi-, pahvi- ja metalliroskille. Korit on helppo kiinnittää ja irroittaa rekistä tyhjentämistä varten.

Riku Toivonen on nuori muotoilija Helsingistä. Riku valmistui keväällä 2016 Lahden Muotoiluinstituutista kalustemuotoilun linjalta. Rikun tavoitteena muotoilussa on ratkaista arjen ongelmia positiivisen asenteen sekä huumorin avulla ja tehdä näin elämästä sujuvampaa.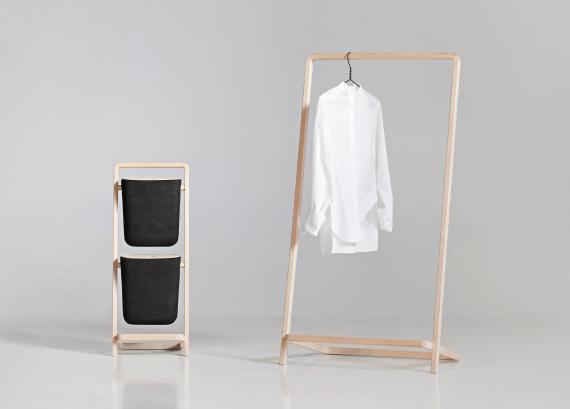 Iso-Taneli is a clothing rack and Pikku-Taneli is a basket rack designed to fit the needs of urban living. The products offer additional storage room especially for small apartments and situations where beds are being used as cloak rooms. When not in use, the racks can be folded flat and stored away by flipping the frame. The baskets are designed for storing small items and can also be used as a portable recycling system for dry trash like paper, glass and metal. The baskets are easy to connect and remove with one hand.
Riku Toivonen is a young designer from Helsinki. He graduated in spring 2016 from the Furniture Design Department at the Lahti Institute of Design. Riku's goal in design is to solve problems in everyday life with a touch of humour, thereby making life better.
riku.t.toivonen[at]gmail.com
www.rikutanelitoivonen.com