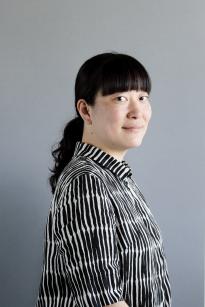 Eri Shimatsuka

-

KUUSIKKO

Kuusikko -kokoelma koostuu neljästä erillisestä tekstiilityöstä, jotka kuvastavat samaa teemaa eri vuodenajoissa värejä, luonnonmateriaaleja ja toteutustekniikoita varioimalla. Kevättä edustaa tuftattu istuinmatto, kesää pellavapyyhe, ja syksyä villahuopa. Kuvan työ edustaa kokoelman talvea ja ilmaisee kaipuuta kevään valoisuuteen. Se on suunniteltu yksityistalon olohuoneeseen takan vierelle. Työ on saanut inspiraationsa suomalaisesta modernista muotoilusta sekä perinteisestä ryijystä. Tekstiilityö on kudottu jacquard-kudontakoneella ja sen materiaaliksi on valittu mohair pehmeän ja lämpimän tekstuurinsa vuoksi. Mohair luo kotoisan olon ja tuo mukavan ilmapiirin Suomen pimeään ja kylmään talveen.

Eri Shimatsuka on Japanissa syntynyt tekstiilisuunnittelija. Hän on asunut Suomessa kahdeksan vuotta, ja hänen työnsä saa jatkuvasti vaikutteita molemmista kulttuureista. Hänen työnsä ovat leikkisiä, positiivisia ja unenomaisia. Eri toivoo töidensä tuovan käyttäjilleen iloa ja tulevan osaksi arkipäivää. Hänen kuosejaan voi nähdä Marimekon kokoelmissa ja Japanissa. Eri työskentelee myös freelance -kirjoittajana ja koordinaattorina japanilaisille kirjakustantamoille esitellen suomalaista muotoilua ja elämäntapaa japanilaisille.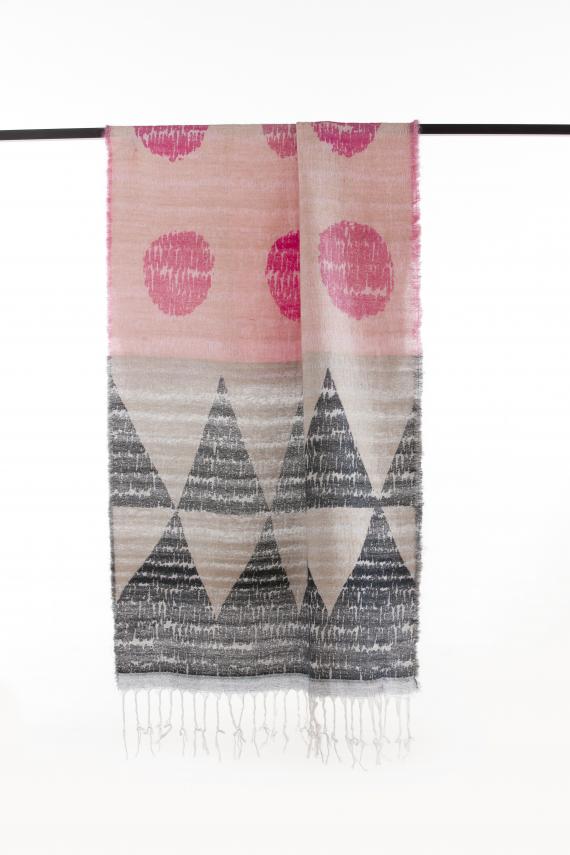 Kuusikko (spruce forest) collection consists of four different textile pieces. The works reflect the changing seasons through colours, natural materials and techniques under the same theme. Spring is portrayed by a tufted rug, summer by a linen towel, and autumn by a woolen shawl. Pictured is the winter piece of the collection which expresses longing for the spring sun. The piece is designed for a private house, next to the fireplace in a living room. It is inspired by simple yet sophisticated Finnish modern design and the traditional ryijy rug. The piece is woven by jacquard machine, and mohair was chosen as material because of its soft and warm texture that makes one feel cozy and brings comfortable atmosphere to the cold and dark winter in Finland.
Eri Shimatsuka is a textile designer originally from Japan. She has lived in Finland for eight years and her work is continuously influenced by both cultures. Her works are playful, positive and dreamy, and she hopes that her textiles will bring happiness to their users and become a small part of someone's every day life. Her print designs can be seen in Marimekko's collection and in Japan. Eri works also as a freelance writer and a coordinator for Japanese publishing companies, introducing Finnish designs and lifestyles for Japanese people.
info[at]erishimatsuka.com
www.erishimatsuka.com