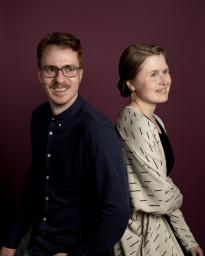 Koivisto Studio

-

KEHTO

Kehto-astioissa kohtaavat perinne ja nykyhetki, kun rouhea tuohen pinta yhdistyy soljuvaan muotokieleen. Tuohesta ja koivuviilusta alipainepuristintekniikalla valmistettuja astioita voi käyttää tarjoiluun tai esineiden säilytykseen. Kehdon keinuva liike vie ajatukset kotimaiseen metsään – suomalaisen kulttuurin juurille.

Muotoilijapariskunta Susanna ja Tobias Feuerbacher työskentelevät Koivisto-nimisellä vanhalla maatilalla Karkkilassa. Susanna on valmistunut muotoilijaksi Savonia-ammattikorkeakoulusta ja Tobias University of Applied Sciences Schwäbisch Gmündistä Saksasta. Harmoninen ja pelkistetty muotokieli yhdisti pariskunnan opiskelijavaihdon aikana, josta yhteinen matka muotoilun parissa alkoi.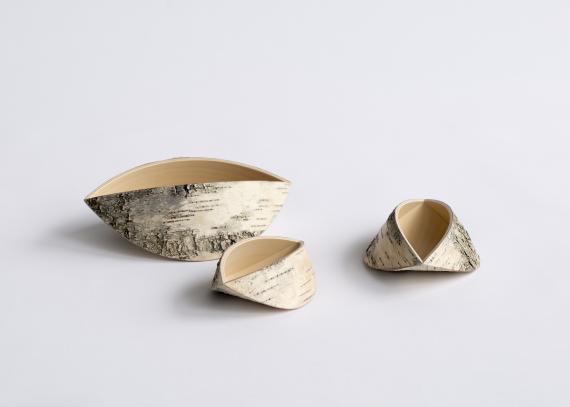 Tradition and present meet in the design of the Kehto (finnish for cradle) bowls where a rough bark surface forms an interesting contrast to the otherwise flowing form language. Made of birch bark and birch veneer, these objects can be used for serving sweets or storing small items. The swinging motion of the cradle takes one's thoughts to the Finnish forest and to the roots of Finnish culture.
Designer couple Susanna and Tobias Feuerbacher work at an old farm called Koivisto in Karkkila, Southern Finland. Susanna graduated as a designer from the Savonia University of Applied Sciences and Tobias from the University of Applied Sciences in Schwäbisch Gmünd, Germany. A simple and harmonious design language united the couple during their student exchange, from which their joint journey in design began.
info[at]koivistostudio.fi
www.koivistostudio.fi
@koivistostudio
+358 50 444 9696