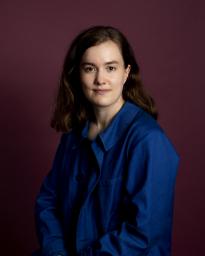 Ida Korsström

-

COMFORT OF COLOUR

Comfort of Colour on sarja jacquard-kudottuja villahuopia, jotka ovat saaneet innoituksensa Firenzen väreistä, kuvioista ja valosta. Kokoelman värit löytyivät pinnoilta ympäri kaupunkia sekä italialaisen talvimaiseman hienovaraisista sävyistä. Tuotteena huopa huokuu lohdullisuutta ja kantaa merkityksiään sukupolvelta toiselle. Huovat on kudottu laadukkaalla merinovillalla ja mohairilla valkoiseen puuvillaloimeen.

Ida Korsström on Aalto-yliopistosta valmistunut tekstiilisuunnittelija, jonka työ keskittyy pintasuunnitteluun ja kudottuihin kankaisiin. Kankaan suunnittelussa Ida nauttii kudontatekniikan rajoitusten tutkimisesta ja hänen uusimpiin aluevaltauksiin kuuluu värien vuorovaikutus kudotuissa kankaissa. Ida saa inspiraatiota monesta eri lähteestä kuten taiteesta, perinteisestä käsityöstä, luonnosta ja muodista. Työssään hän jättää tilaa intuitiolle ja spontaaniudelle ja uskoo, että esteettisesti kestävä muotoilu voi myös olla hauskaa ja ilmeikästä.
Comfort of Colour is a series of jacquard woven wool blankets inspired by the colours, patterns and light of Florence, Italy. The colours for the collection were found on surfaces around the city and in the subtle tones of the Italian winter landscape. As a product the blanket is an embodiment of comfort and a heritage piece for the home. The blankets are woven with high quality merino wool and mohair on a white cotton warp.
Ida Korsström is an Aalto University graduate whose work centers around surface and textile design. She enjoys exploring the technical limitations of woven fabrics and most recently she has immersed herself in the interaction of colours in woven fabrics. The inspiration for her work comes from a myriad of sources such as art, traditional craft, nature and fashion. In her work Ida leaves room for intuition and spontaneity, and she believes that aesthetically long-lasting design also can be fun and expressive.
ida.korsstrom[at]gmail.com
@idakorsstrom