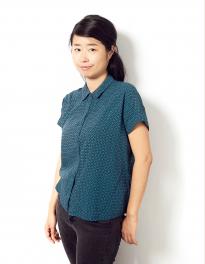 Aoi Yoshizawa

-

MOUFU

Moufu-viltti ja sen geometriset kuviot ovat saaneet innoituksensa perinteisestä suomalaisesta ryijystä. Moufu tarjoaa uudenlaisen tulkinnan tästä ikivanhasta tekstiilistä nykykoteihin. Kudotun ja huovutetun villan yhdistelmä luo pehmeän ja houkuttelevan vaikutelman ja tuo lämpöä kotiin.

Japanissa syntynyt Aoi Yoshizawa opiskelee tekstiilisuunnittelun MA-ohjelmassa Aalto-yliopiston Taiteiden ja suunnittelun korkeakoulussa. Hän luo graafisia ja ilmaisuvoimaisia pintoja eri tekstiilimateriaaleille. Hän nauttii erityisesti työskentelystä kudottujen kuviopintojen kanssa. Hän tutkii työnsä kautta abstrakteja muotoja ja tekstuureja omassa arkiympäristössään.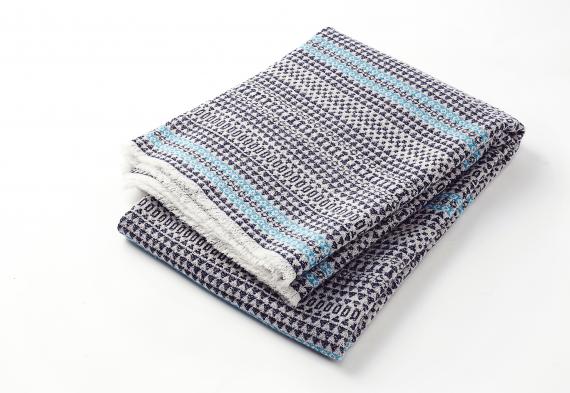 The geometric patterns of the Moufu blanket have been inspired by traditional Finnish Ryijy rugs. Moufu reinterprets this ancient textile culture for modern home interiors. The combination of woven and felted wool creates a soft and inviting feeling and brings warmth to the living space.
Aoi Yoshizawa, born in Japan, is studying at the Textile Art and Design MA program at Aalto University School of Arts, Design and Architecture. Aoi creates graphic and expressive surface designs for different textile materials. She likes to work especially with combinations of patterns and woven structures. Her works explore the abstract forms and textures from her everyday life surroundings.
aoiyoshizawa[at]gmail.com
http://aoiyoshizawa.com
Thank you: HAMK Tekstiiliverstas